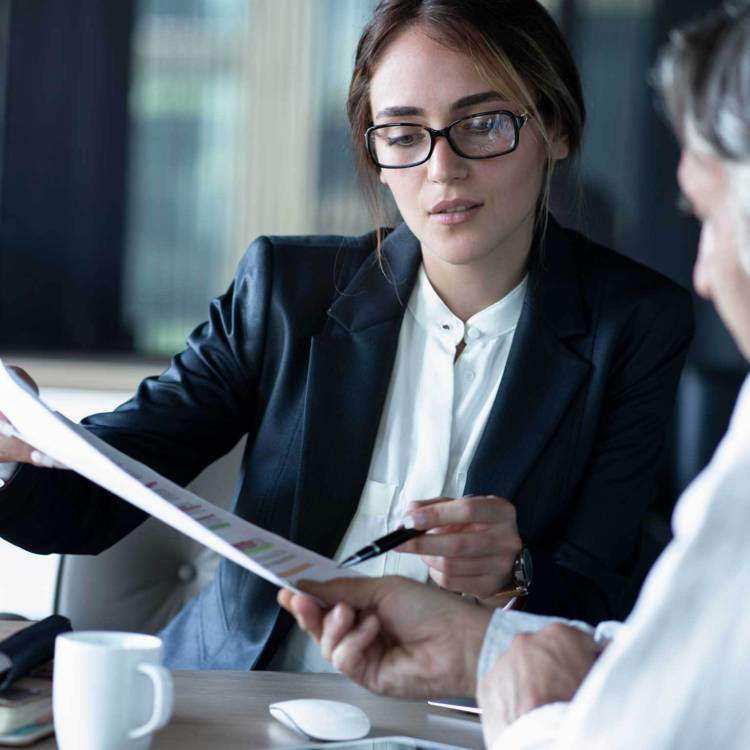 Service Offerings
You deserve truly personalized service designed to suit your individual needs. Our comprehensive team-based financial planning approach means that your professionals can work in tandem to deliver you the best possible advice and guidance.

1

1.

Uncover

Before we can help, we need to understand whether we can truly assist you in any significant way.

We need to understand where you are now, where you would like to be and how we can help you get there; to truly give you peace of mind and improve your financial outlook.

2

2.

Customize

All of our clients come from diverse backgrounds and situations.

Our bespoke services are tailored to your individual needs. We create a personalized roadmap outlining what needs to be done to achieve your goals, and the timelines necessary to support you.

3

3.

Implement

Putting your plan into action.

Once you come on board, we work quickly and methodically to ensure your plan can start working for you as soon as possible.

4

4.

Monitor

Our advisors have a rigorous process for monitoring and evaluating the progress and status of your plan.

5

5.

Update

Life never goes exactly as planned, and often the course needs to be adjusted.

Our advisors conduct regular check-ins and can help you to determine if any changes are necessary to ensure that you accomplish your objectives.
Individual
One of the most common questions we hear is "Will I have enough for retirement"?
Knowing that you will have sufficient funds for your chosen lifestyle provides considerable peace of mind.
With a comprehensive retirement plan you will know exactly where you stand, how much you need to contribute to meet your goals and where to draw your income from to minimize taxes over your lifetime.
Having a retirement plan in place will allow you to enjoy a stress free retirement with the confidence that you are able to live the life that you desire.

Tax planning is an essential component of sound financial management and is built into the core of all of our financial planning strategies. At Wealth Stewards we understand the importance of proactive tax effective planning. Our team of experienced professionals work in direct collaboration with your accounting professionals to help you identify opportunities to minimize your taxes.
While every client's situation is unique and not all strategies will be a fit for everyone, some strategies that we might recommend include strategic use of tax-free and tax-deferred accounts, tax loss harvesting and IPPs for businesses.

Estate planning is a crucial aspect of financial planning that ensures that your assets are distributed according to your wishes after your passing. In collaboration with our in house estate division, Estate Stewards, we are able to offer estate planning overviews as a part of your comprehensive financial plan.
Through Estate Stewards you will also have access to a number of other estate services. This can include assistance with formulating your will, Power of Attorney, Executor and Trustees, and referrals to our network of lawyers. For more information on our estate offerings please visit Estate Stewards.
You have worked hard for what you have and you deserve to know that you, your family and your assets are protected.
Risks can come in many forms and while not all can be eliminated, they can be identified and planned for through expert analysis, structuring and insurance where applicable.

Insurance Audits
Needs for insurance change over time and we often see people who have had an insurance policy for years that may no longer be the right fit. When partnering with us as your primary wealth advisory team, we conduct a detailed analysis of your current insurance policies to ensure that based on your needs you are properly equipped with the right tools to transfer risk to a third party.
It is an incredible feeling when you decide to use your resources to support causes and organizations important to you. It is understandable that you would also be considering how to maximize your support. We can help plan your philanthropic giving with a number of personalized strategies that can help you give effectively both now and as part of your future legacy. These strategies often allow for assets that would otherwise be taxed to be redirected as you choose.
Family office
You have come a long way since those early days, when your primary focus was growing your career, business and your family.
You have arrived at the point where your net worth and portfolio have increased significantly; however, as your financial success has grown in size and complexity, so, too have the questions that tug at you:

How can I protect and grow my wealth without seeing its value erode over time or exposing myself to undue risk?

What tax strategies will optimize my personal and business income?

What is the best way to plan my business and personal wealth transition to help my family and other heirs?

Are there services available that will free up my time and allow me to better enjoy the fruits of my labour?

How can I best integrate my philanthropic desires into my plans?
Only an integrated financial strategy can pull all these moving parts together and orchestrate them into a cohesive plan that will serve your needs and those of your heirs.
To efficiently and effectively implement this plan, you need an experienced team of financial experts with a deep understanding of your needs and proven skills to integrate your diverse financial concerns into a multi-dimensional Wealth Action Plan designed around you.
Choosing Wealth Stewards for your family office needs means choosing a team of multi-generational wealth management experts skilled in planning, developing, implementing and monitoring worry-free wealth management solutions.
Our Family Office Service Offerings Include:

Legacy Planning and Management

Lifestyle Management

Tax Compliance Work

Document Management

Expense Management

Family Governance

Philanthropic Planning
Business
Effective financial planning is essential for the success and sustainability of any business. Our team of experienced professionals can help you develop a comprehensive financial strategy that aligns with your business goals, mitigates risk, and maximizes profits. We can assist with tax strategies for your business, cash flow planning, risk assessments, and managing your business assets, among other services.
We understand that as a private business owner you have a considerable portion of your wealth in your business. It is important to consider proactive planning when considering the future of your business. This is where business transition planning becomes important.
Life can throw curveballs and it is important you are prepared. Business failure, unforeseen events, deaths of key business partners and financial security for you and your heirs are all reasons that people consider proactive planning.
When you're planning for or beginning your business transition. Wealth Stewards can help facilitate and manage the transition in collaboration with your other professionals.

Speak with our team today
Start your journey with a customized complimentary initial assessment and evaluation and see the Wealth Stewards advantage for yourself.
Book Your Assessment Today